Selling A Business
Our lawyers make your business sale easy. Different size businesses have different legal needs. As such, we divide our sale of business services into two different types: small business sales and larger business sales.
The sale of a business, large or small, must be properly documented to ensure that you exit well. A business sale lawyer addresses the technical issues that will assist in protecting your legal interests. Whether you have franchises for sale, a local business, or a larger multi-site operation, it is imperative that you have a solicitor who not only understand the law but have the ability to think commercially.
The types of issues we address include:
Negotiation of the "deal" with the other party, to get the legal issues properly documented
Draft the Business Sale Contract
Drafting a Heads of Agreement (which is preliminary to the Contract), if required
Addressing the Restraint of Trade issue (non-compete)
Ensure that the Intellectual Property (such as trade marks, logos, manuals, business names and domain names) that is due to pass with the sale, is appropriately dealt with
Arrange for the Transfer (assignment) of the lease of the business premises
If vendor finance is being offered to the buyer, draft tight contractual terms to your interests as the seller
Deal with Employee matters, including the transfers of employees, leave entitlements in including standard leave and long service leave entitlements and formulas for adjusting those entitlements at settlements
Transfers of permits required to operate the business
Tax considerations
Documenting the process for the transfer of customer contracts and supply contracts that pass with the sale
Ensuring that your liability in relation to your funding arrangements is discharged
There are different types of processes for different types of sales and different types of businesses.
Sale of a Small Business
We will draft all the necessary documentation including (as required): Contract of Sale of Business (Sale Contract).
We are also well experienced in preparing other documents that are sometimes relevant in a sale, including:
Non-disclosure Agreement (to protect your confidential agreement)
Heads of Agreement
Sale of Shares Agreement
This sale document utilised here is generally a Contract of Sale of Business.
Selling a smaller business, such as a small café or mechanic shop will require a fairly straight forward sale of business contract. There may be some employees that will transition to the new owner's business, which can be costly to the seller if not thought through well.
If there is a lease, you have significant responsibilities as the transferor (assignor) of the lease. If your lender holds secured interest over the business, this will also need to be attended to. These are some of the issues involved in the sale of a smaller business. Our lawyers regularly act for clients in sales of small and family businesses and are well across the issues.
We understand the complexities involved and can make the sale easier and ensure that the terms of contract are clear and you are adequately protected.
Our business sale solicitors also have legal practise experience across multiple areas of law. Experience is required in contract law, property law and employment. Beyond the transfer of the lease or freehold, such matters of restraint of trade often require careful consideration. If employees are staying on, you'll need to deal with them carefully to ensure you are not left with a huge pay out liability as a seller.
Sale of a Medium Sized or Larger Business
A more sophisticated approach is required for a larger business. There will likely be many complex considerations such as leasing arrangements, complex tax considerations or large-scale employee transfers. Our business sale lawyers are experienced and understand the issues and complexity of transferring larger business to the business purchaser.
We can assist you on an end to end basis, if necessary, in conjunction with your accountants, to assist in negotiating the deal with Non-disclosure Agreements, Heads of Agreement prior to drafting the sale agreement. Our team is sophisticated and is used to dealing with complex commercial transactions. We appreciate the importance of seeking to under to understand your commercial drivers as well.
We will simplify the process well drafted documentation will diminish the risk of a dispute with the purchases.
Why Choose Us?
Our lawyers are experienced in business sales and know what questions to ask you to ensure that the sale contract is not only watertight but considers all of the issues. Selling a business is much more than ticking a few boxes and filing a few forms. The consequences of not getting it right can be disastrous and lead to unnecessary disputes or financial loss.
We add value to you through our experience and seasoned negotiation skillset. All of our business sale lawyers have several years of experience. This makes communication easier between lawyer and you more fluid and means that we are looking for commercial considerations relevant to your transaction and specific to your industry.
Our business sale solicitors have the necessary skills across multiple legal areas. Business sales and purchases lawyers are required a deep understanding of commercial law, contract law, leasing, property and more to provide concise advice and avoid pitfalls. We produce immaculate contract documentation which only adds to making you and your business being professionally presented in the eyes of your potential buyer.
Call us now on 1300 907 335 or fill out the contact form on this page for a confidential discussion with one of our business sale lawyers to help you finalise your transaction successfully.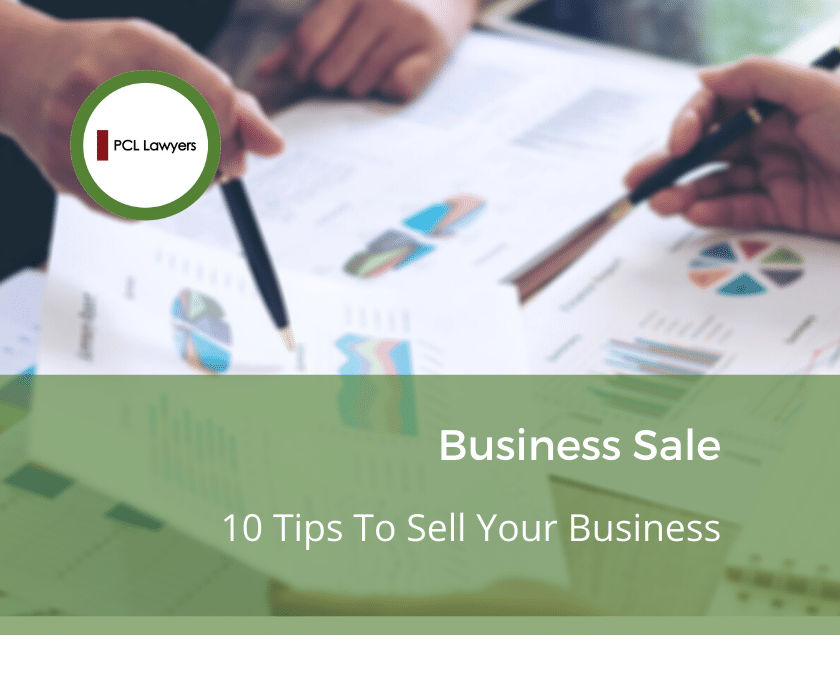 10 Tips to Sell Your Business
10 Tips to Sell Your Business Owning a business is an investment that can be nurtured and grown like any...