Insolvency Lawyers Melbourne
PCL Lawyers can assist you if you are being chased by creditors or if you are facing insolvency. We have been trusted advisors to companies and individuals in these difficult times.
We regularly have to react to crisis situations and can often stabilise stressful circumstances by providing clear, sensible and thorough legal advice. Unlike administrators and liquidators we act for you.
We can draw on a broad range of options with positive outcomes in mind. We have obtained very favourable results for our clients, time and time again.
We act for clients in the following circumstances:
companies or individuals being pursued for money as creditors
companies contemplating receivership or liquidation
companies who have entered liquidation or administration
deed of company arrangements (DOCA)
individuals contemplating bankruptcy
businesses that seek to restructure
director penalty notices
statutory demand applications
insolvent trading claims
company wind up applications
preference allegations and claims by liquidators or bankruptcy trustees
personal property securities enforcement and disputes
caveat priority disputes
voluntary administration advice
receivership advice
insolvency related litigation
debt recovery – including defending debt recovery claims
allegations of unpaid tax debts with the Australian Taxation Office (ATO);
directors being pursued by liquidators (including examinations)
liaising with liquidators on behalf of directors
liaising with bankruptcy trustees on behalf of bankrupt individuals
restructuring including employee issues, renegotiated leases and other contracts.
voting & proxy rights
advising about deeds of company arrangements (DOCA's) which have the effect of enabling a company to make a full settlement with creditors (usually on a cents in the dollar basis) to enable keep the company to trading.
We are experienced insolvency and pre-insolvency lawyers. Sometimes company liquidation or personal bankruptcy is not the only resolution. Timely and appropriate legal advice from experienced insolvency lawyers at this time will likely be of great assistance.
Call us today on 1300 907 335 to discuss your situation or alternatively fill in the form on this page and we will respond to you promptly.
FAQ's
What is the difference between company (or corporate) insolvency and personal insolvency?
What is a corporate restructure?
What is a preferential payment?
What is an Application for Winding up on Ground of Insolvency?
What Is Voluntary Administration?
What is the difference between company (or corporate) insolvency and personal insolvency?
Company insolvency is different to personal insolvency. The end point of Company insolvency is liquidation. The end point of personal insolvency is bankruptcy.
If a company is insolvent or close to it, an administrator receiver, or liquidator may be appointed as a consequence of the company either being unable to meet its debt obligations on time, or the value of its liabilities exceeds that of its assets.
Bankruptcy, however, is the legal process that a person or company follows to resolve their insolvency predicament. Not every person that becomes insolvent will file for bankruptcy, as the issue can sometimes be resolved. In other words there are my steps before that where the debts can be cleared.
What is a corporate restructure?
Corporate restructure involves making significant changes to the structure of a company. This may include changes to ownership or leadership, business practices, employee structure etc.
This can be a tool for growth and expansion as well as a method to avoid insolvency. A company under the threat of insolvency, may use corporate restructures to avoid it.
This can help a company improve its performance and get back on track. Corporate restructure methods involve identifying issues with the current business structure and making relevant changes to the operations or structure of the business to enhance performance and eliminate the issues.
There are four recognised tools for restructuring which can be used independently or in combination with each other. It is important to have a very precise idea of what the company's financial position and trading position are prior to deciding which tool to use.
The best practise is to compile a document known as a "Going Concern Statement" which would include a full analysis of everything going on in the company.
Once this information is in place a company can explore the tools of restructuring that is most suitable for that company. These include:
Debt refinancing or restructuring: refinancing and restructuring are both debt reorganization processes taken to strengthen a company's financial outlook.
Equity restructuring: equity restructuring is done to raise capital for a company. This can be done by issuing more shares and by inviting the public to purchase shares in the company or have rights issued whereby existing shareholders would be able to buy more shares in the company.
Statutory procedures: this involves changing rights attached to the shares of the company.
Asset disposals: this involves disposal of assets that the company could do without to raise funds.
Insolvency lawyers assist in many of the facets in helping to negotiate and prepare documentation etc. If you require advice for a company restructure contact one of the our commercial lawyers for more information.
What is a preferential payment?
A payment made to a creditor whilst the company is insolvent and generally in the six months prior to the date the company is placed into liquidation. These "preferential payments" may be legally clawed back by a liquidator or administrator. If you have received a notice regarding a preferential payment you should obtain legal advice regarding the validity of their claim and to assist in negotiations with the liquidator.
What is an Application for Winding up on Ground of Insolvency?
Winding up proceedings may be commenced by a creditor against a company (in the Supreme Court or the Federal Court), if that company fails to comply with a Statutory Demand for Payment of Debt (Statutory Demand).
A Statutory Demand may be issued by a creditor for a debt in the minimum amount of $2,000, or if issued after 23 March 2020, $20,000. This is supported by an affidavit and sent to the debtor company's registered address. If a Statutory Demand is not addressed to within the prescribed time, the debt is presumed to have crystallised and the creditor is to presume that the company is insolvent. After this time, a creditor may proceed with winding up proceedings. The Australian Taxation Office or trade creditors are common examples of who might issue such proceedings.
There are very strict requirements in relation to Statutory Demands, winding up applications and also if a company seeks to set side or defend action being taken against it. Therefore, it is very important to act quickly if you have been issued with a winding up application.
What Is Voluntary Administration?
When a company is suffering financial difficulties, one option is to put the company into Voluntary Administration so that an independent Administrator can promptly assess the next best steps for the company, hopefully to avoid the company being wound up.
An Administrator may be appointed by a director, creditor or even a liquidator, depending on the circumstances. If possible, an Administrator will assist the company to trade out of its financial difficulties. An Administrator will negotiate with creditors and the two main options are to enter into an arrangement with creditors, known as a Deed of Company Arrangement (DOCA), or it will be placed into liquidation.
Appointing an Administrator can be a helpful pathway to successfully restructuring a company. However, an Administrator acts in the interests of the company and creditors, so you must carefully consider whether appointing an Administrator is also the best decision for you individually, if you are a creditor or director. Therefore, it is very important that you obtain insolvency advice prior to deciding to put a company into Voluntary Administration.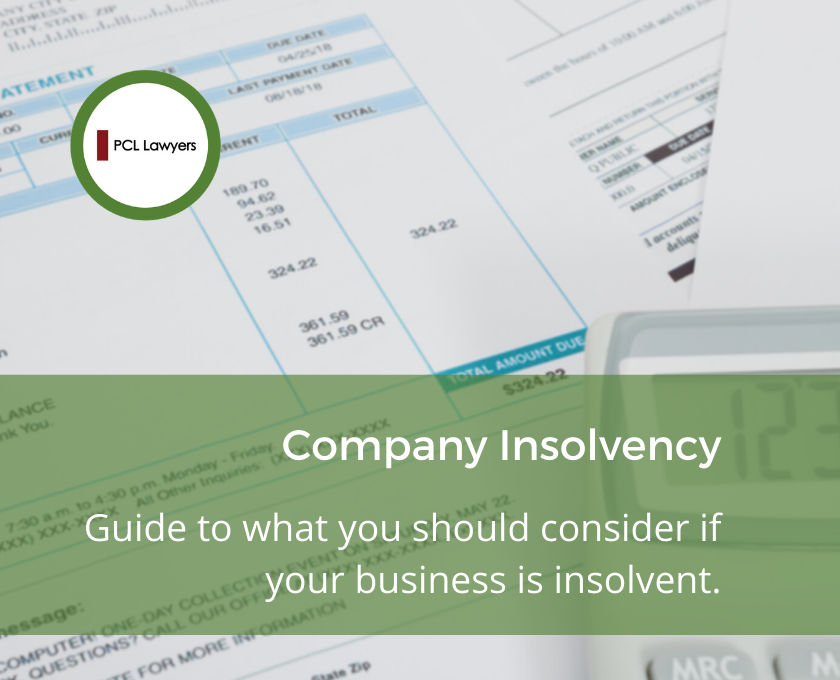 Guide to what you should consider if your business is insolvent.
What is insolvency? The definition of insolvency is that a business cannot pay its debts when they fall due. As...