Franchisors
As a franchisor, it is important as to understand your obligations under the Franchise Code of Conduct and other legislation that relates to your business. Franchise law is constantly being updated and franchisors have been under additional scrutiny with the Royal Commission into Franchising and franchisees underpaying employees. More than even before, the need for Franchisors to be certain that their franchise system is adhering to the relevant laws and regulations. This is more than just ensuring that as a franchisor you are complying with the law with how you deal with franchisees; your duty extends to comprehensively monitoring your franchisees' compliance responsibilities not merely to protect yourself as a franchisor form legal scrutiny but most definitely to prevent damage or destruction of your brand, as we have seen in recent times.
As expert franchise lawyers, we make up to date with any changes to the Franchising Code and the emerging case law and policy changes around franchising. We can assist you with the set-up of your franchise system and providing valuable advice along the way as you expand and have the resources to capably deal with disputes you may have along the way. We consider that bring more than sound legal advice to the table. All of our lawyers also have strong understanding of the commercial realities of business, Hence are well placed to be a franchisor's legal advisors.
Starting a Franchise
If you are considering starting a franchise you will require drafting and advice on the following franchise documentation:
Drafting Franchise Agreements
Disclosure Statements
Franchise Code of Conduct
The fundamental starting point is that your franchise lawyer gets a clear of understanding your business. It is important to establish if franchising is the best growth option for your business because in some cases franchising is not the best vehicle for a business' expansion . If franchising is determined to be tbhe way to go, there are different types of franchise models and spending time getting the model right is worthwhile, as this will of course form the basis of your entire business model for many years to come.
In terms of the documentation, we can draft your franchise agreement, disclosure document and, where relevant, associated documents as required, such as a premises licence agreement, in a tailored, Code-compliant and well-presented way. Considered, well drafted documentation is vital to the success of your franchise and your ability to protect your brand image.Franchisee Premises – Leases and Licence Agreements
This is relevant for franchise systems that operate from commercial premises, rather than from the franchisee's home. If you are a franchisor who owns the commercial premises, or who takes out the lease directly with the landlord, you will need to licence the premises back to the franchisee. If you a franchisor who holds the lease with the landlord, there is the obvious advantage in this as the franchisor of this making it easy to back the site in the event of termination of the franchisee. It can also increase bargaining power with landlord, when the landlord has the security of the franchisor as a tenant.
In these circumstances, we can draft an appropriate premises licence agreement, tailored to the matters relevant to the franchise systems and your requirements as a franchisor. Our property team is also very experienced in dealing with disputes around premises licence agreements.
Disputes with Franchisees, Franchisee Breaches and Litigation
Every competently franchise agreement will have a well detailed Dispute Resolution Procedure. Franchise disputes are more or less dictated by the relevant provisions in th4 Franchise Code of Conduct.
Franchise disputes involve the many stages of initial dispute, mediation and court proceedings.
The dispute resolution process will usually begin with the franchise or franchisor voicing their concerns. If that doesn't' resolve the matter, lawyers are usually instructed to issue a Notice of Dispute. The Notice of Dispute will set out the nature of the dispute and what needs to be done to resolve it. Mediation may then follow and if the dispute is not resolved there, the aggrieved party will be at liberty to commence legal proceedings.
A dispute is to be distinguished from a breach of the franchise agreement by the franchisee. Most franchisee breaches are to do with non-payment of money, such as franchisee fees; other examples (out of many) include failing to maintain the brand image and, more recently, underpayment of staff. In these cases, a Notice of Breach is issued and served on the franchisee, which in turn gives the franchisee an appropriate period of time to remedy the breaches. This will be a at least 14 days. If the breaches are not remedied, the franchisor may be in a position to terminate the franchise agreement.
There are different strategies that can employed at each stage of a dispute, depending upon your desires outcome and what is legally possible. Having the right strategic legal advice on how you approach a franchise dispute can have a dramatically positive effect on outcomes with respect to monetary compensation, brand reputation and franchisee satisfaction.
Our experienced franchise lawyers will be able to offer you various methods and tools in order to resolve disputes or otherwise take alternative action against the franchisee in question. We can assist early aspects of disputes, including representing you in alternative dispute resolution (mediation) and responding gerenally to franchisee claims. Where is litigation is involved, whether it is to be commenced by your as the franchisor or whether you are on the receiving end from an aggrieved franchisee or group of franchisees, our litigation team is experienced in experienced in conducting franchise litigation.
Please call us on 1300 907 335 or alternatively fill out the contact form on this page to confidentially discuss your situation with us obligation free.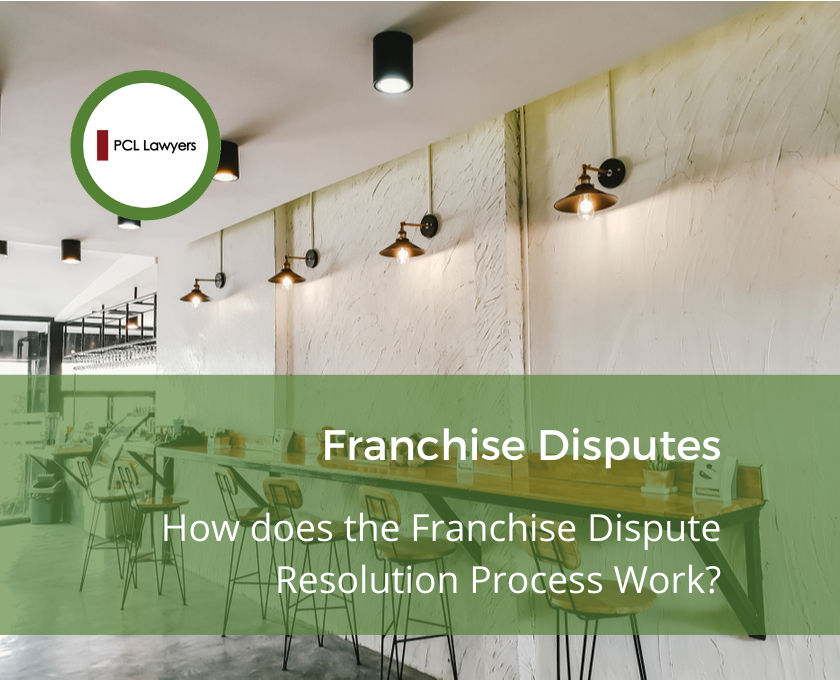 How does the Franchise Dispute Resolution Process Work?
How does the Franchise Dispute Resolution Process Work? Disputes in franchising are not uncommon, but what is the best way...